If you're interested in becoming a part of our troop, we'd first invite you to schedule a visit by filling out an interest form. Please tell us a little about your boys and anything else you'd like to share.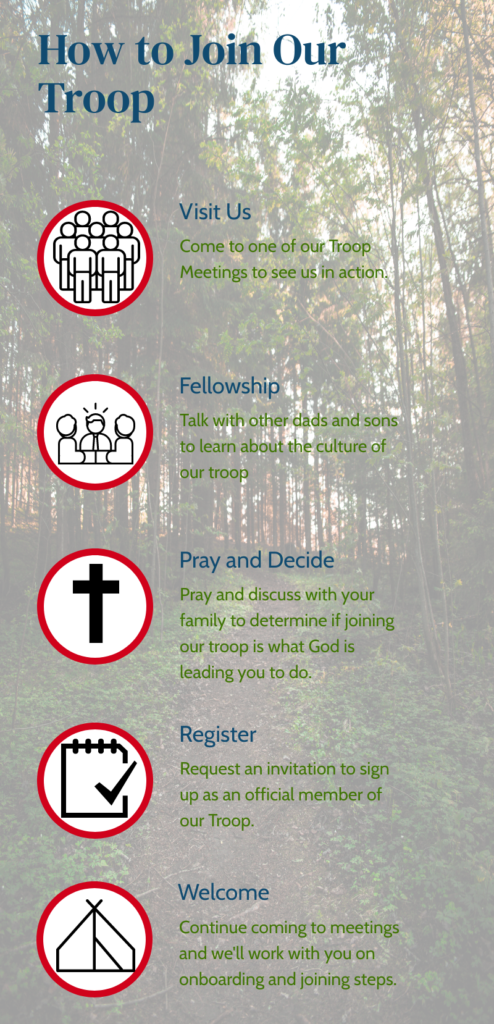 New Youth Members
Fill out an interest form and visit our troop.

Register with the national Trail Life USA organization and pay dues. You will receive any further instructions after paying dues.
Pay Troop Dues.
Turn in a completed Child Medical Form.
Turn in a completed Adult Medical Form.
Read, sign, and return the Policy Handbook.
Order Uniform(s) – uniforms will be worn at all regular meetings, unless otherwise specified. You can buy uniforms at the Trail Life USA store.

Trail Life Uniform Shirt
Black pants or shorts

Order the Navigator/Adventurer Handbook from the Trail Life USA Store for boys in grades 6-12. This is required for Navigators and Adventurers.

---
New Adult Members
Express interest in joining by letting one of our leaders know.

Register with the Trail Life USA national organization. Information for registration will be forwarded to you.
Complete a background check every 2 years. Background check fee is $26 (subject to change).
Sign the Trail Life USA Statement of Faith.
Complete and turn in an Adult Medical Form.
Complete the Trail Life USA Youth Safety Program.